KALE Donuts
Want to eat your greens but really just want to eat dessert? Now you can. All in one confusingly delicious package. These are reminiscent of zucchini bread, but different. A rich earthiness, but blended with warm spices and sweetened just right. Oh and of course they're vegan. Obviously. :) With the benefits of drinking a green smoothie for breakfast … how about a healthy, filling, green donut instead? :D
You and your donuts are becoming a legend in the vegan community! -Bob P
I know you all know how much I love kale (seriously), but I don't think even I knew that I loved it enough to make it into dessert. Then there was a joke made, a challenge issued to myself to actually make it happen, kale donuts were created, and now – everyone who tastes them is an instant convert. I started selling them at the Kale-a-Rama festival and developed an immediate waiting list for orders.
If a kale donut can change the world, one healthy bite at a time, these donuts achieve that goal. -David M
Since then, with just the original glazed and unglazed version, I've developed bourbon, lemon, sriracha, and chocolate glazes, as well a gluten free addition, and a pumpkin spice donut and glaze. Really, the sky's the limit! Let me know what you'd like, and we'll experiment with making it happen! All donuts are based on entirely whole food ingredients, and are cane sugar free (for unglazed varieties – the glaze does currently use powdered sugar).
I was suspicious at first (I eat more Cheetos and jerky than I do kale), but these things are so delicious I would love to eat them for breakfast and again for dessert every day. -Melissa Z
Donuts sell for $30/dozen (minimum order one dozen), plus shipping (or for locals I will deliver for a fee, or you can pick up). Please hit the order now button to place an order (crazy how that works :) ), or fill out the form or comment below with any questions or flavor requests.
Personalized Chocolate Chip Cookie Cake (GF)
The perfect gift for any celebration!  Gluten free and less than *one third* the calories of a traditional chocolate chip cookie pie (according to testers, 200 calories per slice as opposed to 700!), your guests will never realize it's not a traditional cookie recipe!  I made this for a cooking lesson with a group of omnivore teen boys and it was devoured in minutes.  Personalized to your design with any color decorations and a custom message for *your* special occasion.  :)
Once I receive your order I will be in touch by email to find out all the personalization details.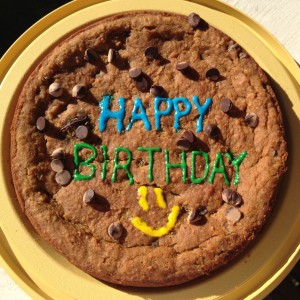 Pies
Homemade pies add a delicious personal touch to any celebration!  Right now I specialize in pecan, apple, or sweet potato with candied nuts, but contact me for details and we can make any of those or your favorite flavor.  :)
Gluten Free crust available upon request.
Did I not mention that the vegan pecan pie was delicious? Because it was! And I demolished that sucker.  -Paul R
Kale Challah
The name says it all, what more can I say?  Perfect challah, with the slight sweetness of raisins, and the little extra nutrition of kale.  :D  A subtle earthiness that balances perfectly with the natural richness of challah, bring a little something extra special to your Shabbat this week.
Each order will receive 2 challot.
Order Now
Inspired by The Shamayim V'Aretz Institute, a portion of the proceeds will go to support their work in Jewish ethics, heavenly ideals, and earthly compassion.
I just wanted to tell you what a HUGE hit the kale challah was! I fed it to omnivores, who gobbled it up. They told me the texture, the moisture level, and taste were absolutely perfect!
Gluten Free Cookies
Double chocolate chunk cookies, and more!  :D  More information coming soon. Contact me for details.
Caramels & Truffles
More info coming soon! Contact me for more details.
If you have any questions or would like more information on any of the items, please use the form below: [contact-form][contact-field label='Name' type='name' required='1'/][contact-field label='Email' type='email' required='1'/][contact-field label='Phone Number' type='text'/][contact-field label='What item(s) are you interested in?' type='select' options='Kale Donuts,,Caramels,Truffles,Gluten Free Cookies,Pie,Lots of things!'/][contact-field label='What can I tell you about them?' type='textarea' required='1'/][/contact-form]